Movri Insurance covers Drops, Spills, Water Damage, Theft, Fire, Lighting, Windstorm, Earthquake, Flood, Fell from Aircraft and Sand Damage.
Movri Insurance is an add-on that limits your liability in the case of a covered event causing damage or total loss of products on your rental.
Simply, if a covered event occurs to equipment protected by Movri Insurance, your liability is limited to the lesser of the cost to repair the equipment or 10% of the replacement cost.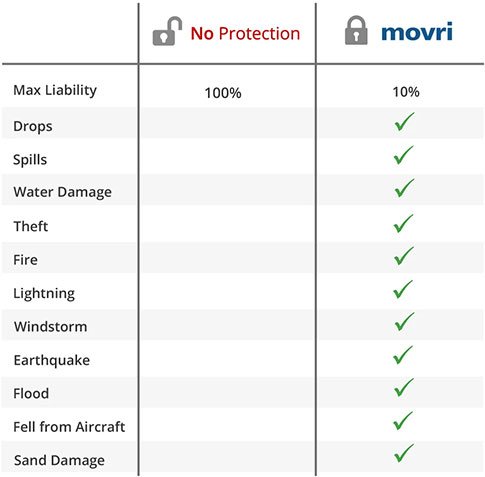 Movri insurance covers accidental damage to the equipment, but additionally protects you against certain situations that make it impossible to return the equipment that you rented.
Was the equipment stolen? You're covered. Is it at the bottom of the ocean after it fell overboard? You're covered. Did it get sucked up in a tornado? You're covered. Did it fall off an aircraft (seriously)? You're covered.
It does not cover the following:
Camera sensor damage caused by exposure to the Sun (regardless of filter used)
Intentional damage
Damage arising from reckless or grossly negligent use of the equipment
Damage caused by abnormal or abusive use of the equipment